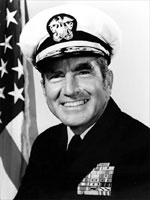 Admiral (retired), US Navy
| Date | Lecture |
| --- | --- |
| Tuesday, March 14, 1989 | "Military/Political Observations 1939/89″ |
| Thursday, March 16, 1989 | "Strategic Considerations in Planning for the Twenty-First Century" |
Admiral Zumwalt was Chief of Naval Operations and a member of the Joint Chiefs of Staff from 1970 to 1974. He is currently serving as President of Admiral Zumwalt and Consultants, Inc., a consulting firm in the fields of management, energy, health care, overseas business operations, foreign and defense policy and strategic planning.
Admiral Zumwalt was a governor of the American Stock Exchange from 1979 until 1985 and was a Director of Esmark, Inc. from 1975 until 1984.
He is presently serving as a Director of the following business corporations: Aeronca, Inc.; American Building Maintenance Industries; American Medical Buildings, Inc.(COB); AP Industries, Inc. Fathom Oceanology Limited; Fleet Aerospace Corporation; National Food Services, Inc.; Navistar international Corporation; NL Industries, Inc.; NL Chemicals, Inc.; Unicorp American Corporation; Langley Corporation.
Admiral Zumwalt was installed as Chairman of the Board and Chief Executive Officer of American Medical Buildings, Inc. on 29 August 1983 and given the assignment of avoiding bankruptcy of the Company. He successfully accomplished the recapitalization of American Medical Buildings, Inc. and a return to financial viability. Since June 1985 he has been serving as Chairman of the Board.
Admiral Zumwalt is presently Chairman of the Genetics Unique Fund Advisory Committee.
Admiral Zumwalt is co-author of the Zumwalt/Bagley Report, a weekly newspaper column on vital current issues syndicated by the Los Angeles Times Syndicate and published in various newspapers around the country.
Admiral Zumwalt has received honorary degrees from Villanova University, the University of North Carolina, United States International University, National University, Central Michigan University, and Michigan Technological University.. He has been a Visiting Professor and guest lecturer at Stanford University, the University of Pennsylvania, Vanderbilt University, the University of Nebraska, and Whittier College.
Admiral Zumwalt was Commander of United States Naval Forces in Vietnam from 1968 to 1970. At 44, Admiral Zumwalt became the youngest officer ever promoted to Rear Admiral. At 49, he became the youngest four-star Admiral in United States history. He was promoted over 35 senior Admirals to become the youngest man ever to serve as Chief of Naval Operations.
Admiral Zumwalt initiated wide-ranging reforms in a dramatic effort to revitalize the Navy. His famous "Z-grams" modernized the Navy and made Navy careers much more attractive. TIME hailed Admiral Zumwalt as "the Navy's most popular leader since World War II." As the Navy's senior officer, he increased the fighting capabilities of the dwindling United States fleet by outfitting remaining ships with more sophisticated and efficient weapons.
After his retirement from the Navy in 1974, Admiral Zumwalt wrote ON WATCH. His book recounted his Navy-career and warned Americans about the Soviet naval threat. He is the author of numerous articles and commentaries.
He ran as the Democratic candidate for the United States Senate in Virginia in 1976.
Admiral Zumwalt was born in Tulare, California in 1920. He was valedictorian of his Tulare High School class of 1938, and a 1942 cum laude graduate of the United States Naval Academy. He is married to the former Mouza Coutelais-du-Roche of Harbin, Manchuria, and has two sons and two daughters.
In the fall of 1986 Admiral Zumwalt and his eldest son co-authored MY FATHER, MY SON, an account of their Vietnam experiences and the tragedy that has followed.