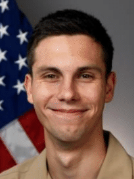 Lieutenant Arthur Pommersheim
Academic Advisor
Lieutenant Arthur Pommersheim graduated from the University of Virginia with a dual degree in Computer and Electrical Engineering. After graduating he completed a temporary duty assignment at the Office of Naval Research. He completed Nuclear Power School at the Naval Nuclear Power Training Command in May 2018 and Prototype at the Nuclear Power Training Unit in December of 2018. After graduating Submarine Officer's Basic Course in March of 2019, he reported aboard USS Missouri (SSN 780) in Pearl Harbor, Hawaii.
Aboard Missouri, Lieutenant Pommersheim served as the Damage Control Assistant and Information Warfare Officer. He completed an Extended Dry Dock Restricted Availability, one surge deployment in support of national defense, and a WESTPAC deployment where he participated in missions vital to national security.
Lieutenant Pommersheim's personal decorations include the Navy Marine Corps Commendation Medal, Navy Marine Corps Achievement Medal (two awards), as well as various other service and campaign ribbons.
---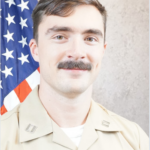 Lieutenant Kent Sayre
Academic Advisor
Lieutenant Kent Sayre graduated from the U.S. Naval Academy in May of 2015 with a degree in Computer Science and was commissioned as an Ensign in the U.S. Navy.
LT Sayre reported for his first Division Officer tour onboard USS ARDENT (MCM-12) as the Main Propulsion Officer and Rescue Swimmer in San Diego, California from May 2015 to February 2018. During this tour, LT Sayre cross-decked to USS NEW ORLEANS (LPD-18) and deployed with her to both 5th and 7th Fleet areas. In February 2018, LT Sayre reported for duty as the Electronic Materials Officer onboard USS DETROIT (MCM-12) in Mayport, Florida. LT Sayre deployed during the summer of 2020 with USS DETROIT and HSC-22 Det 5 in support of counter illicit trafficking in the 4th Fleet area of operations.
LT Sayre's personal awards include Navy and Marine Corps Achievement Medal (four awards), as well as other personal and unit citations.
---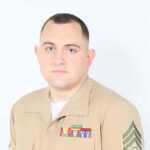 Gunnery Sergeant Harry Perkins
Assistant Marine Officer Instructor
Gunnery Sergeant Harry Perkins assumed his current post as Assistant Marine Officer Instructor in February 2020. He entered the Marine Corps in June 2008 and completed recruit training at MCRD San Diego, California, after which he was assigned the MOS 1171, Water Support Technician.
Gunnery Sergeant Perkins reported to MCRD San Diego for Drill Instructor School in April of 2013. Upon graduating, he was assigned to the "Strongest Most Feared" Kilo Company, 3rd Recruit Training Battalion where he completed seven cycles as a Drill Instructor and Senior Drill Instructor. He was promoted to his current rank on December 1st 2020.
He has been assigned numerous duties throughout his career to include: Quality Control Manager, Platoon Sergeant, Maintenance Chief, Operations Chief, Mobility Chief, and filled the billets of Company Gunnery Sergeant and Company First Sergeant. In 2018, he earned the
F-MOS 0917 serving as both Martial Arts Instructor and Martial Arts Instructor – Trainer.
He deployed in support of Operation Enduring Freedom in 2009 with 7th Engineer Support Battalion and then again in 2011 while attached to Combat Logistics Battalion – 1.
Gunnery Sergeant Perkins' personal decorations include the Navy and Marine Corps Achievement Medal (two awards), the Combat Action Ribbon, as well as various personal, campaign, and service decorations.