Fleet Admiral Chester W. Nimitz
Fleet Admiral Chester W. Nimitz was born Feb. 24, 1885 in Fredericksburg, a small German-style town in central Texas. It was here, on the steps of his grandfather's hotel, that young Chester Nimitz received his first impressions of life at sea. He would sit for hours and listen with fascination to his grandfather's sea stories. Later, Admiral Nimitz would say of his grandfather: "I had a wonderful white-bearded grandfather. He was Charles H. Nimitz, who settled in Fredericksburg, Texas, and built a steamboat-shaped hotel."
While out on a training exercise with a field artillery unit, a young Army officer, Lt. William M. Cruikshank, stopped at the Nimitz family hotel. Nimitz was impressed with Cruikshank's military bearing and uniform, and knew Cruikshank was not much older or different than himself. This was the life Nimitz wanted.
Nimitz was denied entry into West Point, but was offered a seat at the Naval Academy in Annapolis. Nimitz left the Academy in 1905 and headed to his first assignment aboard USS Ohio (BB 12), a battleship home-ported in San Francisco.
As his career unfolded, Nimitz held many prominent positions within the hierarchy of the Navy chain of command. He established himself as an expert in submarine propulsion and an early advocate of diesel engines. He built the submarine base at Pearl Harbor, founded one of the first Naval Reserve Officers Training Corps units, was pivotal in the introduction of the carrier into the battle group, commanded the flagship of the Asiatic Fleet and was appointed commander of Battleship Division One. Along the way he shifted his focus from engineering to personnel. At the outbreak of World War II, he was Chief of the Bureau of Navigation.
Following the attack on Pearl Harbor, instructions were sent from President Franklin Roosevelt to Secretary of the Navy Frank Knox: "Tell Nimitz to get the hell to Pearl and stay there until the war is won." Nimitz assumed command of the Pacific Fleet on December 31, 1941. From that day on, he carried the fight to the enemy. His superb leadership and the valor of more than two million American fighting men culminated on the deck of the USS Missouri four years later as he signed the Japanese surrender as Commander in Chief of the largest naval armada ever assembled. On December 15, 1945, Admiral Nimitz relieved Fleet Admiral Ernest J. King as Chief of Naval Operations. One of his final acts as CNO was the introduction of the naval nuclear propulsion program, laying the groundwork that lead to the development of the Nimitz class of aircraft carriers.
Aside from being a great naval leader, Nimitz was also a devoted father and husband. He married the daughter of an affluent New England broker. Her name was Catherine Freeman. They were married April 9, 1913, in Wollaston, Massachusetts. Catherine and Chester's relationships grew into a Navy family. They had four children: Catherine Vance; Chester Jr.; Anna; and Mary. Although Chester spent many years away from his family, it was his family which proved to be the stabilizing factor for him during World War II.
Fleet Admiral Nimitz died Feb. 20, 1966, with his wife at his side. He never wrote his memoirs because he was afraid that if he presented his side, it might belittle the accomplishments of others.
---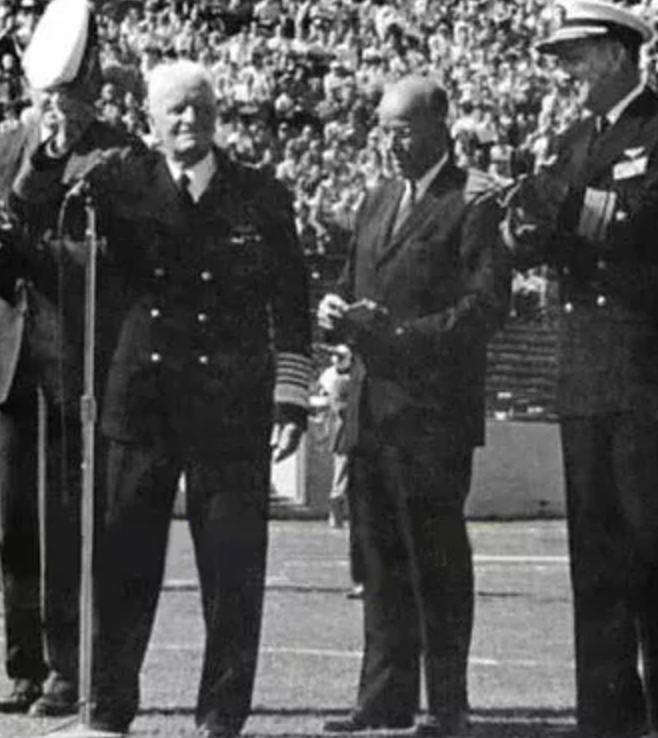 Nimitz Day, Oct. 17, 1964, at Berkeley, California. Fleet Admiral Nimitz acknowledges the cheers of football fans at the game between the University of California and the Naval Academy. To the admiral's left are Clark Kerr, Chancellor or the University of California, and Rear Admiral Charles S. Minter, Superintendent of the Naval Academy. To his right is Edmund Brown, Governor of California.
---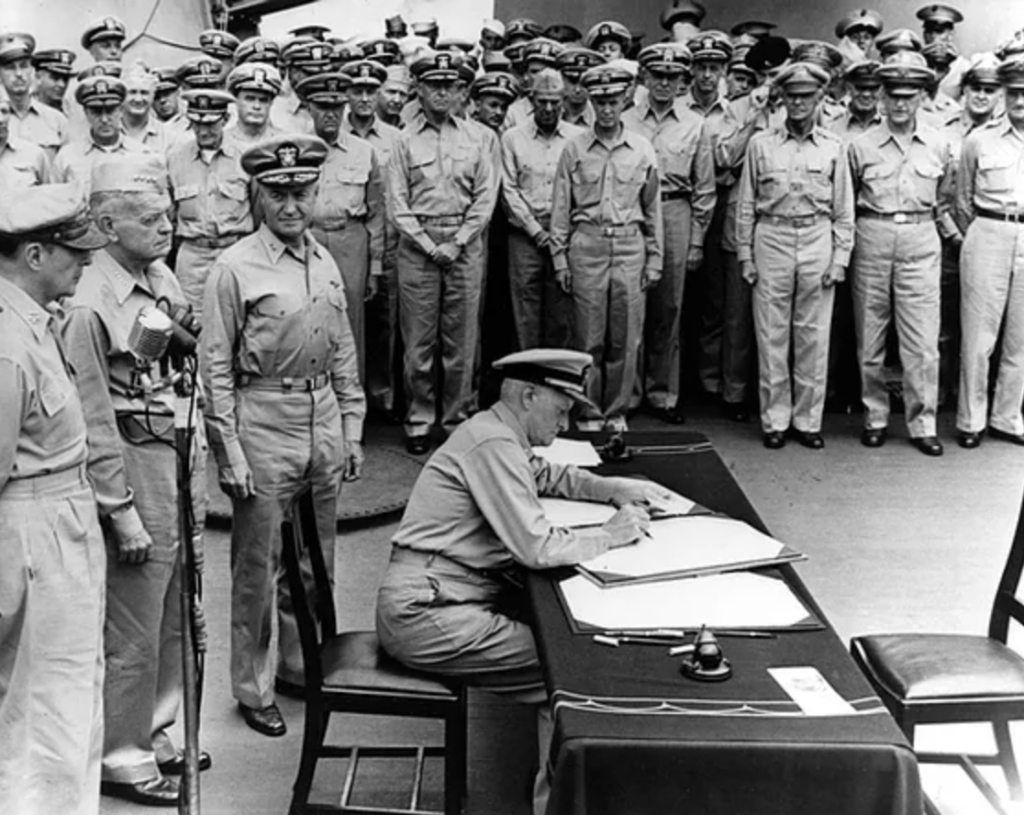 Fleet Admiral Chester W. Nimitz, USN, signs the Instrument of Surrender as United States Representative, on board USS Missouri (BB 63), Sep. 2, 1945. Standing directly behind him are (left-to-right): General of the Army Douglas MacArthur; Admiral William F. Halsey, USN, and Rear Admiral Forrest Sherman, USN. In front row, background, are (left to right): Rear Admiral Frederick C. Sherman, USN; Vice Admiral Charles A. Lockwood, USN; Vice Admiral John S. McCain, USN; Vice Admiral John H. Towers, USN; Admiral Richmond K. Turner, USN; Rear Admiral Robert B. Carney, USN; General Walter C. Krueger, U.S. Army; General Robert L. Eichelberger, U.S. Army and General Carl A. Spaatz, USAAF. Others identified behind the front row include (in no order): Brigadier General Joseph H. Fellows, USMC; Captain Tom B. Hill, USN; Commodore J.C. Cronin, USN; Rear Admiral Ingram C. Sowell, USN; Rear Admiral Richard E. Byrd, USN; Rear Admiral Howard F. Kingman, USN; Rear Admiral Lloyd J. Wiltsie, USN; Rear Admiral J. Cary Jones, USN; Captain John S. Thach, USN and Commodore Joel T. Boone, USN(MC). Official U.S. Navy Photograph, now in the collections of the National Archives.
---