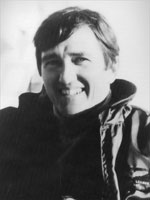 Chairman, J.F. Lehman & Company
| Date | Lecture |
| --- | --- |
| Tuesday, April 16, 1991 | "Is a Permanent Elite Professional Military Acceptable in a Free Democracy?" |
| Thursday, April 18, 1991 | "A Defense Strategy for Securing Peace from the Cold War Victory" |
John Lehman is Chairman of J.F. Lehman & Company. He is also Director of Paine Webber, Inc., Ball Corporation and Westland Group, p.l.c.
On February 5, 1981 he was sworn in as the 65th Secretary of the Navy. He resigned April 10, 1987 after serving longer than all but three of his predecessors.
He began his career as a staff member of the Foreign Policy Research Institute at the University of Pennsylvania. He served as special counsel and senior staff member to Dr. Henry Kissinger on the National Security Council and delegate to the Mutual Balanced Force Reductions Negotiations in Vienna. He became Deputy Director of the U.S. Arms Control and Disarmament Agency in 1975, holding that position of Chief Operating Officer until 1977. He served as president of Abington Corporation between 1977 and 1981.
Dr. Lehman holds a B.S. from St. Joseph's University, a B.A. and M.A. from Cambridge University, and a Ph.D. from the University of Pennsylvania. He was a Chubb Fellow at Yale University.
He is a qualified attack bombardier and helicopter pilot and a Captain in the U.S. Naval Reserve.
Dr. Lehman has written several books, including The Executive, Congress and Foreign Policy; Aircraft Carriers: The Real Choices; Beyond the SALT 11 Failure; and Command of the Seas.