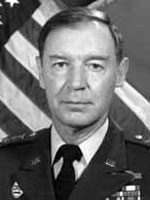 General (retired), US Army
| Date | Lecture |
| --- | --- |
| Tuesday, March 10, 1992 | "Behind Operation 'Just Cause': The Policy Prelude to the Invasion of Panama" |
| Thursday, March 12, 1992 | "Hemispheric Security on Approaching the Twenty-First Century" |
Prior to retirement on October 31, 1989, General Fred F. Woerner was Commander in Chief of the U.S. Southern Command, responsible for U.S. military activities in Latin America and for implementing U.S. national security policy and strategy in this region.
General Woerner was born in Philadelphia, Pennsylvania, on August 12, 1933. He entered the Army after graduating from the U.S. Military Academy at West Point in 1955. He received a Master of Arts degree in Latin American history from the University of Arizona.
His military career was divided between infantry assignments in the U.S. and Vietnam, and duties associated with Latin America. He lived in Colombia in 1965, and spent a year in study and travel throughout the northern countries of South America. He served the following three years in Guatemala as an advisor on the use of military forces in national socioeconomic development. He then attended the Uruguayan Military Institute of Superior Studies in Montevideo. Later, he served as the director of Latin American studies at the U.S. Army War College.
General Woerner served as the Commanding General of the 193rd Infantry Brigade, Panama, from 1982 to 1986 and concurrently commanded the U.S. Army Security Assistance Agency – Latin America. He served as the Commanding General of the Sixth U.S. Army at the Presidio of San Francisco, California from March 1986 to June 1987. He returned to Panama in 1987, as the Commander in Chief of U.S. Southern Command.
General Woerner is now a Professor of International Relations at Boston University. He is also an associate with Burdeshaw Associates, Military Professional Resources, and Sumner Associates; and a consultant with Booz Allen Hamilton, the Mitre Corporation, Science Applications International Corporation, and the Panamanian Corporation – Grupo Melo.