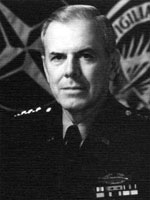 General (retired), US Army
| Date | Lecture |
| --- | --- |
| Tuesday, March 9, 1993 | "NATO: Why?" |
| Thursday, March 11, 1993 | "Architectures for Future Security" |
General John R. Galvin is currently the John M. Olin Distinguished Professor of National Security Studies at the United States Military Academy, West Point, New York. He assumed this position on July 1, 1992 upon his retirement after 44 years of military service.
Prior to his retirement, General Galvin was the Supreme Allied Commander, Europe, and the Commander-in-Chief of the United States European Command from June 26, 1987 to June 24, 1992.
General Galvin held a wide variety of command and staff positions during two previous periods of European service. In 1973 he began seven years continuous service in Europe beginning as the Deputy Secretary of the Joint Staff, Headquarters, U. S. European Command. He then moved to Supreme Headquarters Allied Powers Europe in Belgium where he served as a Military Assistant to the Supreme Allied Commander, Europe. Upon completion of that assignment, he returned to Germany to command the Division Support Command of the 3rd Infantry Division. In 1977 he became the Chief of Staff of that Division. His final appointment during that tour was as Assistant Division Commander of the 8th Infantry Division from 1978 to 1980. In his second period of European service, General Galvin commanded the VII (U.S.) Corps in Germany from 1983 to 1985.
General Galvin was born May 13, 1929 in Wakefield, Massachusetts. He served as an enlisted man in the 182nd Regiment, Massachusetts National Guard from 1948 to 1950. In 1950 he received a National Guard appointment to the United States Military Academy, from which he was graduated with a Bachelor of Science degree and was commissioned a Second Lieutenant of Infantry in 1954. He holds a Master of Arts in English from Columbia University and did additional graduate work at the University of Pennsylvania. In 1971, he was a fellow at the Fletcher School of Law and Diplomacy.
General Galvin has also had broad experience outside of Europe. In the 1950′s he served in infantry units in Puerto Rico and as a Ranger instructor in Colombia. He later served two tours in Vietnam with the 1st Cavalry Division, including command of the 1st Battalion, 8th Cavalry. From 1985 to 1987 General Galvin was Commander-in-Chief, U.S. Southern Command in Panama.