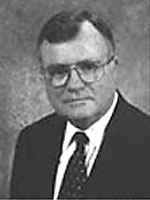 Lieutenant General (retired), USMC
| Date | Lecture |
| --- | --- |
| Tuesday, March 22, 1994 | "A 'Yardstick' for Humanitarian Intervention" |
| Wednesday, March 23, 1994 | "The Military and the Media" |
Lieutenant General Bernard E. Trainor is currently the Director of the National Security Program and Adjunct Lecturer in Public Policy at the John F. Kennedy School of Government, Harvard University. He joined the faculty in 1990. Previously he was the military correspondent for The New York Times, a position he took shortly after retiring from the Marine Corps in 1985.
General Trainor was commissioned in the Marine Corps in 1951 after graduation from Holy Cross College.
He is a highly decorated officer whose military career included a wide variety of command and staff assignments. He had combat commands in both the Korean and Vietnam wars and has a background in special operations.
His military staff duties dealt primarily with professional education and planning and operations. Prior to retirement in 1985 he was Deputy Chief of Staff for Plans, Policies and Operations and Marine Corps Deputy to the Joint Chiefs of Staff.
Throughout his career the General wrote extensively for military publications. While with The New York Times he covered military matters at home and abroad and provided on-the-scene analyses of conflicts throughout the Third World. He continues to contribute his military expertise as a weekly columnist for The New York Times Syndicate and is a military consultant for ABC.
General Trainor holds a Masters degree in history and did additional graduate work at the University of Colorado. He attended the Marine Corps Command and Staff College and is a Distinguished Graduate of the Air War College.
Additionally, General Trainor is a member of the Council on Foreign Relations and the International Institute for Strategic Studies. He serves on the Board of Advisors to the President of the Naval War College, the Academic Advisory Board to the US Naval Academy, the Board of Directors to the World Affairs Council, and the Board of Directors to the Marine Toys for Tots Foundation. He is also editorial advisor to the Naval War College Review, and serves on the Advisory Board for the Harvard Journal of International Affairs. General Trainor is a contributing author to American Defense Annual (1990), Defense Beat (1991), Newsmen and National Defense (1991), After the Storm (1992), and Perspectives on Warfighting (1992 Marine Corps Association). He is currently completing a book on the conduct of the Gulf War to be published this year by Little, Brown & Company.