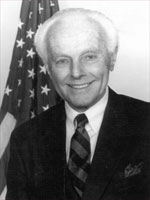 Congressman, U.S. House of Representatives
| Date | Lecture |
| --- | --- |
| Wednesday, April 12, 1995 | "The Next Balkan War: The First Crisis of the Post-Cold War Era" |
Congressman Tom Lantos, who is serving his eighth term in the U.S. House of Representatives, was first elected to Congress in November 1980. He is currently assigned to the International Relations Committee and the Government Reform and Oversight Committee. As a senior member of the International Relations Committee, Congressman Lantos has been recognized for his expertise on Western Europe, Central and Eastern Europe, Russia and the republics of the former Soviet Union, and the Middle East.
Congressman Lantos has been involved with Congressional response to dramatic changes taking place in Eastern Europe, United Nations peacekeeping and other activi- ties, international arms control and non-proliferation policies of the United States, counter-terrorism efforts in the wake of terrorist activities in the U.S. and against its allies, global human rights issues, and international law enforcement efforts.
Born in Budapest, Hungary, on February 1, 1928., Congressman Lantos was 16 when Nazi Germany occupied his native country. As a teenager, he was a member of the anti- Nazi underground and later a leader in the anti-Communist student movement. He came to the United States in 1947 and received a B.A. and M.A. in Economics from the University of Washington (Seattle) and a Ph.D. in Economics from the University of California, Berkeley.
For three decades Tom Lantos was a professor of economics, an international affairs analyst for public television, and a consultant to businesses. He also served in senior advisory roles in economics and foreign policy to a number of members of the United States Senate.