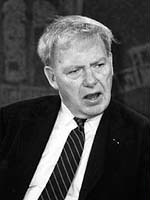 | Date | Lecture |
| --- | --- |
| Wednesday, March 6, 1996 | "Future Military Strategy" |
Colonel Harry G. Summers, Jr. is now a syndicated columnist for the Los Angeles Times and editor of Vietnam magazine. Colonel Summers is also an Army War College Distinguished Fellow who formerly held the War College's General Douglas Mac Arthur Chair and the Marine Corps University's 1993-1994 Brigadier General H. L. Oppenheimer Chair of Warfighting Strategy.
The Honorary Colonel of the 21st Infantry Regiment, Colonel Summers is a veteran of the Korean and Vietnam Wars. Twice decorated for valor and twice wounded in action, his-award winning critique of the Vietnam War, On Strategy, is used as a student text by the war and staff colleges and by many civilian universities. His latest works, The New World Strategy: A Military Policy for America's Future and Atlas of the Vietnam War were published this past fall.
Colonel Summers has made more than 200 network television appearances and he was a military analyst for NBC News during the Gulf War. A prolific writer, he won New York University's Center for War, Peace and the News Media's 1990 Olive Branch Award, the Veterans of Foreign Wars 1991 News Media Award, the Vietnam Veterans of America's 1993 Excellence in the Arts Award and the 1993 Legion of Honor Bronze Medallion of the Chapel of Four Chaplains.
A graduate of the Army War College, Colonel Summers was awarded a Bachelor's degree in Military Science by the University of Maryland and a Master of Military Arts and Science by the Army Command and General Staff College. A member of the Council on Foreign Relations and the International Institute for Strategic Studies, Colonel Summers has testified before the Congress on strategic military issues and lectured at the White House, the CIA, all of the War and Staff Colleges, U.S. Military Academies and such academic institutions as Georgetown, Harvard, Stanford and Vanderbilt.