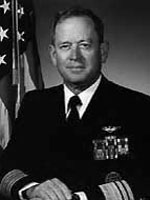 | Date | Lecture |
| --- | --- |
| Thursday, April 3, 1997 | "U.S. Involvement in Peace Support Operations" |
Leighton W. Smith, Jr., was born in Mobile, Alabama. He attended the Naval Academy, graduating with the Class of 1962. He received his wings in January 1964.
As a light attack pilot, Admiral Smith flew the A-4 Skyhawk and A-7 Corsair during multiple deployments to the Mediterranean, North Atlantic, Western Pacific and Indian Ocean. These deployments included three combat cruises in waters off North Vietnam where he flew over 280 combat missions. Admiral Smith has commanded Attack Squadron EIGHTY-SIX, Carrier Air Wing FIFTEEN, Light Attack Wing ONE, USS KALAMAZOO (AOR 6) and USS AMERICA (CV 66).
Following his tour on the AMERICA, he spent a year with the Strategic Studies Group in Newport, Rhode Island, as a CNO Fellow. Subsequent to his selection to Flag rank in 1986, he served as Director, Tactical Readiness Division on the staff of the Chief of Naval Operations, followed by commander Carrier Group SIX when he deployed in USS FORRESTAL (CV 59) and USS AMERICA (CV 66) to the North Arabian Sea, Mediterranean and North Atlantic.
The Admiral's next tour was as Director of Operations (J-8), United States European Command, headquartered in Stuttgart, Germany, from August 1989 to June 1991, a time of enormous political change in Europe. During his almost two years in Germany, he was directly involved in operations in direct support of Desert Shield/Desert Storm, to include combat operations initiated from Turkey into Iraq, evacuation of threatened civilians from Liberia and humanitarian support to Kurdish refugees in northern Iraq.
Promoted to Vice Admiral in June 1991, he served for two and a half years as Deputy Chief of Naval Operations for Plans, Policy and Operations (N8/N5). He was a major contributor to Navy staff reorganization and the development of "From the Sea", the naval strategy for the 21st century. Admiral Smith was selected for his fourth star and became Commander, U.S. Naval Forces Europe (London, England) and Commander in Chief, Allied Forces Southern Europe (Naples, Italy on 9 April 1994.
On 20 December 1995 Admiral Smith assumed additional duties as Commander Implementation Forces (IFOR), the multinational force tasked to implement the military aspects of the Peace Agreement on Bosnia-Herzegovina.
Admiral Smith has been awarded two Defense Distinguished Service Medals, the Navy Distinguished Service Medal, three Legion of Merits, two Distinguished Flying Crosses, two Meritorious Service Medals, 25 strike flights and four individual award Air Medals, three Naval Commendation Medals (with combat "V"), and the Navy Achievement Medal (with combat "V").
Following a change of command ceremony in Naples, Italy, on 31 July 1996, Admiral Smith returned to Fairfax, Virginia where he resides with his wife, the former Dorothy Dunn McDowell of Columbia, South Carolina.