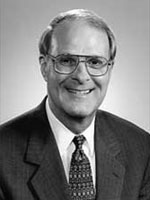 Admiral (retired), US Navy
| Date | Lecture |
| --- | --- |
| Wednesday, March 8, 2000 | "The United States-China Relationship — How to Define It" |
| Thursday, March 9, 2000 | "United States Foreign Policy in Asia: A Multilateral or BilateralApproach" |
Admiral Charles R. Larson assumed duties as the 55th Superintendent of the U.S. Naval Academy in 1994. Prior to his arrival at the Academy, Admiral Larson served from 1991-1994 as Commander in Chief of the U.S. Pacific Command (CINCPAC) located in Honolulu, HI. As the senior U.S. military commander in the Pacific and Indian Ocean areas, he led the largest unified command, directing Army, Navy, Marine Corps and Air Force operations across 103 million square miles. As CINCPAC, he was responsible to the President and the Secretary of Defense, and was also the U.S. Military representative for collective defense arrangements in the Pacific, working with 44 countries in the Pacific Rim.
Admiral Larson graduated from the U.S. Naval Academy with distinction in 1958, after which he reported to flight training in Pensacola, FL, and was designated a naval aviator in 1960. He then reported to Attack Squadron 176 where he flew missions from the aircraft carrier USS Shangri-La (CVA 38). In 1963, he volunteered and was accepted for nuclear power training. Upon completion, he served in two fleet ballistic submarines, USS Nathan Hale and USS Nathanael Greene, before reporting as executive officer of the nuclear-powered attack submarine USS Bergal.
Admiral Larson was the first naval officer selected as a White House Fellow and served his fellowship in 1968 as Special Assistant to the Secretary of the Interior. From 1969 to 1971, he served as Naval Aide to the President of the United States. He reported back to sea duty as executive officer of the nuclear attack submarine USS Sculpin. Then from 1973 to 1976, he served as commanding officer of the nuclear attack submarine USS Halibut. In 1976, Admiral Larson assumed duties as Commander, Submarine Development Group ONE in San Diego, CA, in which he headed the Navy's worldwide deep submergence program.
As a Flag Officer, Admiral Larson served in nine assignments subsequent to his promotion to Rear Admiral in 1979, which include: Director of the Strategic Submarine Division and Trident Coordinator on the Staff of the Chief of Naval Operations; Director, Long Range Planning Group; Commander, Submarine Group EIGHT; Commander, Area Anti-Submarine Warfare Forces, SIXTH Fleet; and Commander, Submarines Mediterranean (NATO) in Naples, Italy. From 1983 to 1986 he served as 51st Superintendent of the U.S. Naval Academy.
Admiral Larson was promoted to Vice Admiral prior to reporting as Commander, Striking Fleet Atlantic/Commander, SECOND Fleet in 1986. In 1988, he reported as Deputy Chief of Naval Operations for Plans, Policy, and Operations.
Admiral Larson was promoted to four-star rank in February 1990 upon being assigned as Commander in Chief, U.S. Pacific Fleet-the Navy component commander in the Pacific theater. After one year in this position, Admiral Larson was nominated by the President and assumed duties as Commander in Chief, U.S. Pacific Command.
Admiral Larson's decorations include the Defense Distinguished Service Medal, six Navy Distinguished Service Medals, three Legions of Merit, Bronze Star Medal, Navy Commendation Medal and Navy Achievement Medal. He has also been decorated by the governments of Japan, Thailand, France and Korea.