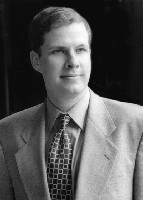 | Date | Lecture |
| --- | --- |
| Wednesday, March 12, 2003 | "Does America Need an Empire?" |
| Thursday, March 13, 2003 | "The 'American Empire' in the Middle East: 50 Years of Futility" |
Max Boot is Olin Senior Fellow in National Security Studies at the Council on Foreign Relations in New York, and a contributing editor to The Weekly Standard.
His last book, The Savage Wars of Peace: Small Wars and the Rise of American Power (Basic Books) was selected as one of the best books of 2002 by The Washington Post, Los Angeles Times and The Christian Science Monitor. He is now writing his next book, a history of military technology revolutions over the past 500 years, War Made New: Four Great Revolutions That Changed the Face of Battle, which will be published by Gotham Books, an imprint of Penguin publishing.
Before joining the Council in October 2002, Boot spent eight years as a writer and editor at The Wall Street Journal, the last five years as editorial features editor. He was twice named one of America's 30 leading business journalists under 30 by the TGFR Newsletter. From 1992 to 1994 he was an editor and writer at The Christian Science Monitor.
Boot's writing has appeared in The New York Times, The Washington Post, The Wall Street Journal, The Financial Times, The Times (London), The Weekly Standard, Foreign Affairs, Military History Quarterly, American Heritage, and many other publications.
Boot is a frequent public speaker who has addressed institutions ranging from the Naval War College to the American Bar Association to Dartmouth University. He has also appeared on CNN, Fox News Channel, CNBC, ABC, PBS, National Public Radio, and numerous other television and radio outlets.
Boot holds a bachelor's degree in history, with high honors, from the University of California, Berkeley (1991), and a master's degree in history from Yale University (1992).