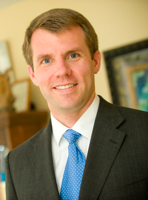 Chief Executive Officer of the Center for a New American Security (CNAS)
Nathaniel C. Fick was appointed Chief Executive Officer of the Center for a New American Security (CNAS) in June 2009. He was previously the Chief Operating Officer of CNAS and has been a Fellow at the Center since its founding in 2007.
Prior to joining CNAS, Fick served as a Marine Corps infantry officer. He took part in the earliest phases of Operation Enduring Freedom in Afghanistan and Pakistan in 2001 and 2002 and led a reconnaissance unit during the invasion of Iraq in 2003. In 2006, he was a Visiting Fellow at the Center for Strategic and International Studies, and served in 2007 as a civilian instructor at the Afghanistan Counterinsurgency Academy in Kabul. Fick spoke at Denver Invesco Field at the 2008 Democratic National Convention and later served on the Presidential Transition Team at the U.S. Department of Veterans Affairs.
He is the author of the 2005 New York Times bestseller One Bullet Away, recognized as one of the "Best Books of the Year" by The Washington Post. The Marine Corps Heritage Foundation honored the book with its General Wallace M. Greene Jr. Award, given annually to outstanding nonfiction pertinent to Marine Corps history. The book was also awarded the Colby Award from the William E. Colby Military Writers Symposium, which recognizes a major contribution to the understanding of intelligence operations, military history, or international affairs. The Commanding General of U.S. Marine Corps Forces Central Command made One Bullet Away required reading for officers deploying to Afghanistan and Iraq.
Mr. Fick's writing has appeared in The New York Times, The Washington Post, Forbes, and Foreign Policy, among many other publications, and he is a frequent contributor to television and radio. He was formerly an on-air national security consultant to CBS News, and is a member of the Council on Foreign Relations and the International Institute for Strategic Studies.
Fick serves on the boards of the Marine Corps Scholarship Foundation, dedicated to providing educational opportunities for the children of Marines killed in action, and the Rockefeller Center for Public Policy at Dartmouth College, which encourages graduates to embark on careers in public service.
He holds an A.B. degree with high honors in Classics and Government from Dartmouth, where he won a national championship title in cycling. He received an MPA in International Security Policy from the John F. Kennedy School of Government at Harvard University, where he was a Dean's Fellow, and an MBA from the Harvard Business School.
He is a certified sailboat charter captain in Washington, D.C.
Areas of Expertise:
Broad foreign and defense policy
Elements of national strategy
U.S. military forces and operations