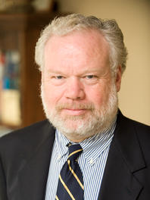 | Date | Lecture |
| --- | --- |
| Tuesday, March 15 2011 | "Why our generals were more successful in World War II than in Korea, Vietnam or Iraq/Afghanistan" |
| Thursday March 17, 2011 | How O.P. Smith (UC Berkeley class of 1996) saved 15,000 Marines" |
Thomas E. Ricks is a Senior Fellow at the Center for a New American Security (CNAS). Concurrently with his duties at CNAS, Ricks writes an online blog for ForeignPolicy.com called, "The Best Defense," serves as contributing editor for Foreign Policy.
Prior to becoming a Senior Fellow, Ricks was affiliated with CNAS as a Senior Writer in Residence, at which time he completed his new book, The Gamble: General Petraeus and the American Military Adventure in Iraq, 2006-08, published in February 2009, by The Penguin Press.
Ricks covered the U.S. military for The Washington Post from 2000 through 2008. Until the end of 1999 he had the same beat at the Wall Street Journal, where he was a reporter for 17 years. He has reported on U.S. military activities in Somalia, Haiti, Korea, Bosnia, Kosovo, Macedonia, Kuwait, Turkey, Afghanistan and Iraq. He was part of a Wall Street Journal team that won the Pulitzer Prize for national reporting in 2000 for a series of articles on how the U.S. military might change to meet the new demands of the 21st century. Ricks also was part of a Washington Post team that won the 2002 Pulitzer prize for reporting about the beginning of the U.S. counteroffensive against terrorism. His book FIASCO: The American Military Adventure in Iraq, published by Penguin Press in July 2006, became a national best seller and a finalist for the Pulitzer Prize in 2007.
Born in Massachusetts in 1955, he grew up in New York and Afghanistan and graduated from Yale in 1977. He is a member of the Inter-University Seminar on Armed Forces and Society, the Society for Military History, and the International Institute for Strategic Studies.