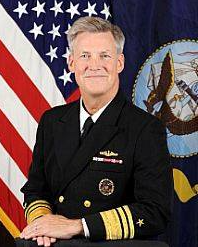 Director, Navy Staff
The son of a career Marine, Vice Adm. Robert Thomas graduated from the University of California with a Bachelor of Science in Civil Engineering. He holds a Master of Science in National Security Studies from the National War College.
As a career submarine officer, Thomas has served on fast-attack submarines operating in both U.S. Pacific Command and U.S. Central Command theaters of operation. His assignments included USS Guitarro (SSN 665), USS Permit (SSN 594), USS Asheville (SSN 758) and USS Bremerton (SSN 698) where he served as commanding officer. Additionally, he took command of USS Tucson (SSN 770) while serving as deputy commander, Submarine Squadron (SUBRON) 11.
Thomas served as commander, Submarine Force, U.S. Pacific Fleet Representative West Coast; commander, Submarine Squadron 11 and commander, Task Force 74/54 in Yokosuka, Japan. In his last assignment, Thomas commanded the U.S. 7th Fleet.
A graduate of the U.S. Naval Academy, Blair earned a master's degree in history and languages from Oxford He assumed duties as director, Navy Staff in October 2015.
Ashore, Thomas served as flag aide to the deputy chief of naval operations (OP-07); program analyst in the Secretary of the Navy's Office of Program Appraisal; director of Operational Support (CNO N23); assistant deputy director for Politico-Military Affairs, Western Hemisphere, J5, on the Joint Staff; director, Plans and Policy (N5) for Naval Special Warfare Command; director, Strategy and Policy Division (OPNAV N51); vice director of operations, J3, on the Joint Staff; and chief of staff, J5, on the Joint Staff.